Kickstarting construction of 6 new medical colleges: TN releases Rs 600 crore
Chennai:
The Tamil Nadu Government has recently sanctioned an amount of Rs 600 crore for commencing the construction work of 6 new medical colleges in Dindigul, Namakkal, Ramanathapuram, Virudhunagar, the Nilgiris and Tiruppur districts in the state with an objective to start MBBS admissions from the year 2021.
As per a recent TOI report, Health Secretary Beela Rajesh stated that the government examined the proposal of the Director of Medical Education(DME) and sanctioned the release of Rs 100 crores for the construction of each medical college.
A notice duly undersigned by the PK Bandhopadhyaya, Under Secretary, Government of India (GOI) providing the financial figures were made available to the State Health Department. The approved cost for the 6 medical colleges stood at Rs 325 crore. This expense would be divided between the Centre and the State government in a 60:40 ratio, this means Rs 195 crore would be provided by the Centre while the State would contribute Rs 130 crore each.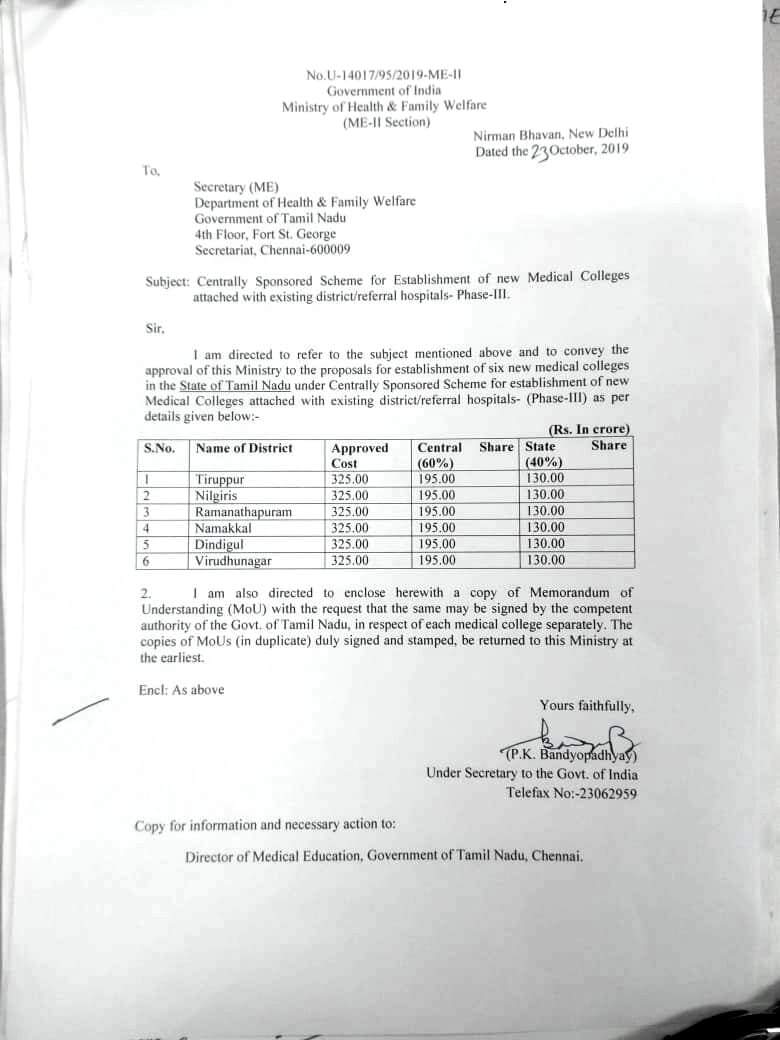 The MCI had also cleared the decks for the medical colleges adding that this would probably be the largest number of seats the state had been sanctioned at one go. The 6 new medical colleges would add 900 MBBS seats, with this the total count of MBBS seats would be seen crossing the 8000 mark.
Also Read: With MCI nod to 6 new MCs, Tamil Nadu to have more than 8000 MBBS seats
The land for constructing the 6 new medical colleges have been transferred to the Health Department. The state government has also obtained approval of the Technical Evolution Committee of the Centre and issued essentiality certificate for starting the new government medical colleges.
As per a Government order, nine acres at Kooraikoondu in Virudhunagar, 11. 28 acre plot in Tiruppur town, Rakkiyapaayam group of Nallur village in Tiruppur district, 25 acres in a village in Udhagamandalam, 8 acres at Adiyanathoo village in Dindigul district, 10 acres in Siluvampatti village in Namakkal district and 9 acres at Pattinamkathan village at Ramanathapuram district have been decided as the location for the 6 new medical colleges.
Also Read: Tamil Nadu to get 6 new medical colleges with 900 MBBS seats by 2020
commenting on the same, R Narayanababu, Director of Medical Education told
TOI
, "The aim is to complete constructions and seek permission from MCI to start admissions for the first-year MBBS by 2021 in all six colleges."
Source : with inputs Farhat Nasim joined Medical Dialogue an Editor for the Business Section in 2017. She Covers all the updates in the Pharmaceutical field, Policy, Insurance, Business Healthcare, Medical News, Health News, Pharma News, Healthcare and Investment. She is a graduate of St.Xavier's College Ranchi. She can be contacted at editorial@medicaldialogues.in Contact no. 011-43720751 To know about our editorial team click here