AIIMS Rishikesh invites application for Biomedical Research Competition: Apply by September 15
Rishikesh:
All India Institute of Medical Sciences (AIIMS), Rishikesh, will hold the first National Biomedical Research Competition (NBRCom-2018) on 15th October 2018, the 87th birthday of Dr APJ Abdul Kalam, under the aegis of 'Society of Young Biomedical Scientist'.
Eligibility Criteria:
The competition is open to all young Biomedical researchers (UG, PG, PhD & Research Scholars who are not above the age of 35 years as on 15th October).
Abstract submission for the oral & poster competition will be closed on 15th September 2018. The abstract should be structured in four headings (Backgrounds Materials & Methods, Results, Conclusion) with a maximum 250 words.
Shortlisted abstracts for the competition will be intimated through email.
All shortlisted oral & poster presenters have to register within a week after intimation of acceptance. The registration fee for UG Students is Rs. 600/- and for PG Student, PhD Scholar, JRF, SRF, Rs.800/-. Payment can be made through Net Banking at
http://www.nbrcom.sybsindia.org/www.sybsindia.org.
For more and detailed information regarding Biomedical, Research Competition read the brochure given below.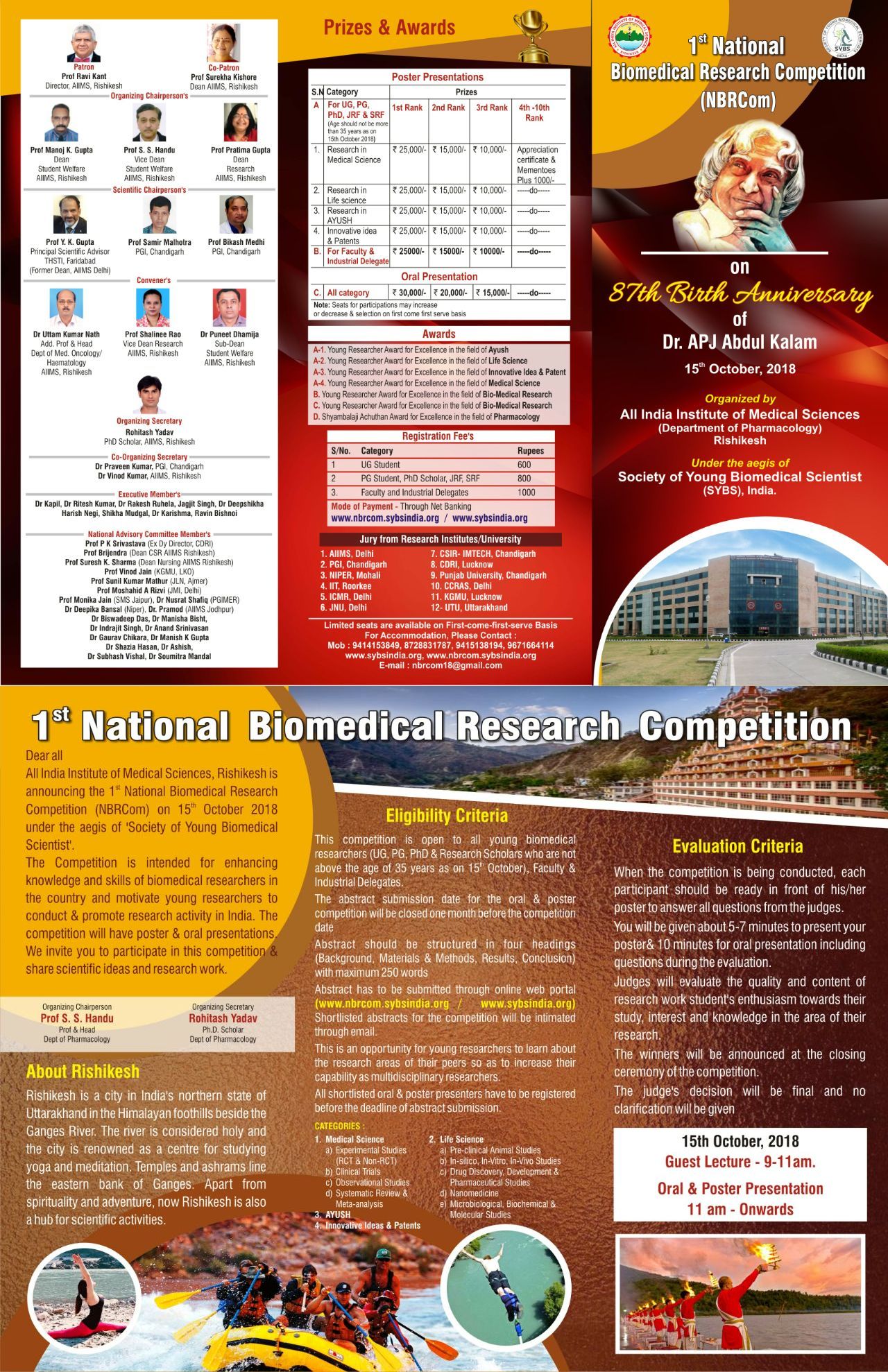 Prizes will be awarded for Poster Presentations for PG, PhD, JRF, SRF & Postdoc as follows: 1st rank- Rs.25000/-; 2nd rank-Rs.15000/-; 3rd rank- Rs.10000/-. Prizes for 4th -10th rank will be Appreciation certificate & Mementoes and Rs.1000/-.
Oral Presentation will carry a first prize of Rs. 30,000/-, the Second prize of Rs.20,000/- and the third prize of Rs.15,000/- for All categories. There will also be an Appreciation certificate & Mementoes for 4th to 10th ranks.
click on the given link for more details:
http://aiimsrishikesh.edu.in/
http://aiimsrishikesh.edu.in/newwebsite/wp-content/uploads/2018/08/701_brochure_of_1st_nbrc_2018.jpg